Post-Show Discussion following Laramie Project at the Wellington School, Columbus, Ohio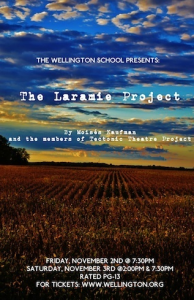 Susan Burk, Laramie Project Specialist at the Matthew Shepard Foundation, will be leading post show discussions at The Wellington School's production of The Laramie Project on November 2 & 3. For ticketing information, visit The Wellington School's website.
Burk has been working closely with the cast and director of the production throughout the creative process and the MSF is excited that we will be able to attend two showings of the play.