Diversity Platinum to benefit Matthew Shepard Foundation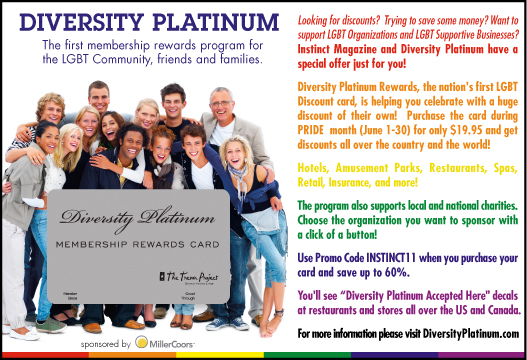 Everyone loves a discount.  For the past several months, LGBT Consumers, family and friends have been taking advantage of the Diversity Platinum Rewards Program, brainchild of CEO Steve Harris.   National companies such as Macy's, Seaworld, Avis, 1800 flowers, Six Flags, Busch Gardens, Hamburger Mary's, Wolfe Video Precision Garagedoor Service, local retailers, restaurants and hotels and many others have jumped on board giving discounts to members of the LGBT community, their families and friends.  There are over 1000 companies and businesses participating and the list grows daily!
The program also gained new beneficiaries along the way. The Matthew Shepard Foundation, is now a beneficiary to the program.  Back in March, Harris presented a Diversity Platinum Rewards card to song writer, celeb Sir Elton John on behalf of the Matthew Shepard Foundation.   "It was surreal" says Harris.  He was very down to Earth and very appreciative.  Doug Sanborn of MillerCoors was also on hand to present the cards to Sir John and Mr. and Mrs. Dennis Shepard. A portion of every purchase will go to the Matthew Shepard Foundation.
Instinct Magazine is a proud sponsor of the Diversity Platinum Rewards Program.  To insure that every LGBT person in the US has a card, Instinct Magazine and Diversity Platinum's Corporate partner Miller Coors is very proud to announce that in the month of June, as we celebrate Pride Month, Diversity Platinum will make the program affordable to everyone.
The Diversity Platinum Rewards Card will be on sale for $19.95 (usually $65.00).  This is a remarkable, one time opportunity for everyone. The sale has just begun and finish on June 30th.  There are over 1000 businesses world wide that are offering discounts. Make sure you get your card and support The Matthew Shepard Foundation. Go to www.diversityplatinum.com. Use the Promo Code Instinct11 to get your card at 60% off!