Learn More About Our Speakers Bureau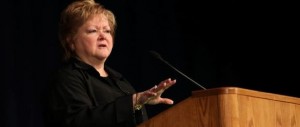 The Matthew Shepard Foundation work tirelessly to Erase Hate. Our speakers bureau is the corner stone of that work.
Our speakers give communities the chance to interact. Whether it's Judy Shepard spreading her message of acceptance, Dennis Shepard advocating victims' rights, or our Laramie Project Specialist, Susan Burk, hosting talk-back sessions for school and community productions of "The Laramie Project," our programs open dialogue and encourage constructive communication. The best way to reach people is face-to-face; the Foundation is committed to that kind of in-person outreach.
In the coming year, the Foundation will continue to expand our programs in our ongoing effort to "Erase Hate." Our growing speakers bureau is now better able to cater to the needs of the communities that we assist. The variety of backgrounds and professional credentials our speakers offer bring schools and community groups invaluable insight from the perspective of journalists, authors, activists, and public safety officials. And our Laramie Project Specialist will continue to reach more and more school and community productions, as well as offering more insights about the play through our strengthened partnership with the Tectonic Theater Group.
For more information on our speakers bureau, click here.