MSF in Recent LGBT Media Coverage
The Matthew Shepard Foundation would like to share with you some recent media reports about LGBT issues.
Judy Shepard was on CNN on March 16th to talk about Senator Rob Portman's support of marriage equality after his son came out as gay. Watch the interview by Don Lemon here.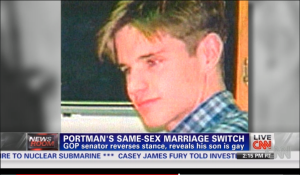 Judy was also interviewed by National Public Radio's Ari Shapiro in advance of the Supreme Court's hearings on the Prop 8 and Defense of Marriage Act (DOMA) March 26 & 27. Shapiro looked at the bumpy road that has been LGBT rights. From Bowers v. Hardwick to Barney Frank, and 'My So-Called Life' to Matthew's murder, the LGBT community has come a long way.
Finally, Jason Marsden, Executive Director at the Matthew Shepard Foundation, was interviewed by the Associated Press following a report from the Department of Justice that said 2 out of every 3 hate crimes are not reported to the police. "It's shocking to see that much of an increase in the feeling of futility that hate crime victims are apparently experiencing," Marsden said. You can read the full article here.