Erase Hate Chicago
The Matthew Shepard Foundation is headed to Chicago!
Join the Foundation March 8th-11th, to help spread the message of
"Erasing Hate, while Replacing it with Understanding, Compassion & Acceptance"
Friday, March 9th, 2012

Judy Shepard Speaks at the Chase Auditoriu

m
In Conjunction with the Chase PRIDE Business Resource Group

CHASE TOWER AUDITORIUM
10 S. Dearborn Street | 11:30 a.m. – 1:00 p.m.
RSVP by Emailing: PRIDE.Chicago@JPMChase.com
Additional Information at: MatthewShepard.org

Chicago Reception Benefiting the Matthew Shepard Foundation
Hosted by Stewart Smith, Elaine Fosse, & Diane Freeman
Join Judy Shepard & the Matthew Shepard Foundation Staff for a special cocktail reception from 6-8 p.m. and help support a future without Hate.
Tickets: $100 at MatthewShepard.org
Tickets will not be sold at the door.
Entertainment by The Elaine Dame Jazz quartet
THE CARLYLE | 1040 N. Lake Shore Drive
Limited Parking is available for $6.00
Click here for a full list of Partners & Sponsors of this event!

Saturday, March 10th, 2012
H.E.R. Day at the Center on Halsted
With Keynote Judy Shepard at 11 a.m.
Every day, more than 1,000 people visit Center on Halsted, the Midwest's most comprehensive community center dedicated to building and strengthening the Lesbian, Gay, Bisexual and Transgender Community. H.E.R. Day is Center on Halsted's marquee women's event empowering female-identified individuals to live healthier, happier lives through a full day of special events and programs.
Tickets: $12 at www.centeronhalsted.org/HERDay
CENTER ON HALSTED| 3656 N. Halsted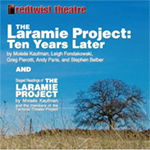 Redtwist Theatre Presents 'The Laramie Project – Ten Years Later

'
BENEFITING THE MATTHEW SHEPARD FOUNDATION
A Chicago Premiere Production Directed by Greg Kolack
Sat. March 10th at 6:30 p.m. Tickets: $100
Wine & Appetizer Pre Reception with Judy Shepard.
Talk-Balk Discussion with Laramie Project Specialist, Susan Burk.
REDTWIST THEATRE | 1044 Bryn Mawr | 773-728-7529
Benefit tickets for March 10: www.redtwist.org/LaramieBenefit.html
Full Foundation Press Release:  Chicago Press Release 2.12