Jason Marsden, MSF Executive Director, Speaks at MLK Day Celebration in Matthew's Hometown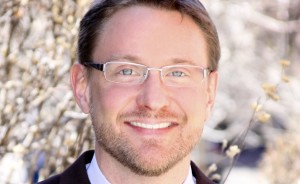 On Monday, January 21st, Jason Marsden, Executive Director of the Matthew Shepard Foundation, was asked to address the crowd at the Matrin Luther King Jr. Day celebration in Matthew's hometown of Casper, WY. His moving words touched the crowd and we hope you too gain something from them.
I am deeply honored to be invited to address you all today given the solemn meaning of this anniversary to all Americans who cherish equality and justice.
It was the work of an entire generation to establish this annual observance of the birth of Dr. Martin Luther King, Jr. Eighty-four years have passed since his life began and almost 45 since his death, but his accomplishments remain within living memory and will endure long after his every worldly contemporary. Almost 60 years after Montgomery, almost 50 since he gave the greatest speech in American history, we celebrate his clear vision of what is right and his commanding moral case that it be done.
Dr. King brought us this case from a jail cell, from the Lincoln Memorial, and more often than not, from a pulpit, a sanctified place, one he was well trained to use and one which we as a nation are not used to seeing deployed in our secular life. He used the pulpit, its customs and its centrality to our inner lives, to marshal his countrymen's spirits toward action in the material world. And he did so despite rank persecution by temporal powers who saw in his great struggle for dignity and his embrace of civil disobedience, a threat to their own comfort and prestige. Those persecutors ultimately failed, as must all such obstacles to the achievement of human potential.
I have never been invited to speak in a pulpit before. But the fellowship of many earnest, hopeful meetings in church basements, is deeply familiar. I am dressed here, head to toe, in my own doubts and anxieties that I can use this moment in a way deserving of the honor and the occasion.
And indeed Dr. King did not come to his powerful and public faith by the easy road. His religious doubts in his youth are well-documented. But are they understood? Do we know his path ourselves? Do we simmer in doubt, and despair of the promise of justice being at last delivered before we too are called home?
Of course we do — or we would not be here today, seeking fellowship and connection, sharing this legacy and strengthening our mutual commitment to at last conclude his work, this great cause of equality.
It is the fundamental American creed, that each of us is created equal. Creation, it turns out, is not the problem — it is instead, our equal fulfillment of our lives, our liberties, our pursuit of happiness that is the hard work yet to be achieved.
So how, then, do we, our thin rank and file of activists in this lonesome, sparse place, how do we translate our passion for this cause into action, into historic change?
The nation's eyes do not look searchingly to us for this accomplishment, after all. We act on a grand enough stage, perhaps, but before a small and familiar audience — our own peers, with whom we while away our time, reliant always on our shared connections, our community, deeply aware of the truth of each other, for good and for ill. This is small-town life.
I see before me many faces with whom I have shared fellowship, arrayed now against pollution; now against discrimination; now against poverty; now against war. Have we made a difference? Did our time together, our words, our signs waved in the park, our testimony to legislators, did these acts change the rules by which we all must live?
I say, they did, and that we must never forget it and never flinch from doing so again.
Martin Luther King spoke of dreams. I sense we all share them still. Are they reveries from which we awaken, shocked, disoriented that they are not a reality? From time to time I know I do. Certainly now, fewer of us must suffer being judged by the color of our skin. But are we yet able to stand solely on the content of our character? And do we extend that courtesy to other who may stand sometimes in our path? For they too have character and it is never ours to fully perceive. This is the part of the dream that rattles in the waking mind, its challenge to all of us so clear, its distance from fulfillment still so obviously far. And what of his dreams of an end to poverty, and to militarism? Have we really begun to take those on board, as a nation? Or even as one small, close-knit community?
Yet these dreams are not a mere figment of a slumbering mind — they are a higher order of thing. A vision, as if from the proverbial mountaintop. Dr. King saw that the path would lead to a summit, one he grimly foretold of us reaching without him. Are we closer now? Unquestionably. Do we have the will to go on, one foot falling before the other? I fear that sometimes, amid our daily pains, our wearying efforts, we falter in doubt. But never forget — so too did the dreamer, and look where we are today.
Yes, within the closed confines of our community we yearn to find the lever long enough to budge the ingrained injustices we sharply perceive. We may feel too that we are judged not by the content of our character but by the political flag we fly, or by whom we love, or by the foreign place from which we hail. And we would have to confess the dreary impulse to meet suspicion or disdain with the same — what Dr. King warned us was the cup of bitterness, not to be drunk of. The importance of this holiday, of celebrating this man, and the millions he stands for, dead and living and not yet born, is to own up to the weight of his challenge, live in a way that fulfills the dream, and carries it into the presence of those not yet touched by it.
And what a message Dr. King's dream holds for us today, right here in the Equality State! What magnificent diversity it has taken to build the community we enjoy! And what a blessing we are to each other!
Without its ranches, its mines, its railroads, its wilderness, Wyoming is something breathtaking still — its people. And what people — ancient natives, itinerant French trappers, myriad soldiers and settlers, Basque ranch hands, Croatian coal miners, Chinese merchants, Irish railroaders, multigenerational Hispanic and African-American families who predate our statehood. LDS pioneers and pious Catholics. Evangelicals, mainline Protestants, doubters and nonbelievers. Republicans … and somewhat less Republicans. E pluribus unum. And unity – one-ness from the many – like so many small communities, we crave it, strive for it. We find it in places, and seem always to be looking for it.
That is good, but let us also, now and then, look hard for the differences too, and bring one another the gift of a richer togetherness – one which celebrates not just that we are diverse, but that we needed to be, still need to be, and will have it no other way.
I come to this work in as individual and unique a way as I suppose any of us do. I am a farmer's son and grandson and quite some "greats" more besides, from a thousand miles away. My life has transpired entirely since Dr. King's ended. I hail from a place whiter and more alike even than Casper. Most of us there were about equally poor enough not to notice poverty, and far enough from power and war to luxuriously ignore their allure and their perils. Nothing about the 10-year-old me would suggest a future in civil rights activism.
But life happens, and 15 years ago it happened to me, in part because a half-century of civil rights advocacy had not yet confined and barricaded homophobia. One day Wyoming's gay community was quiet and obscured from view, and the next day it was the subject of withering scrutiny and wondering sympathy, and a torrent of outrage from across the world. For one of our own lay dying at the hands of a few who had learned hatred and its deadly expression. In the death of Matthew Shepard, and in the tireless dedication of his parents, and in concert with countless ordinary people, I found my voice. And everything changed.
What I still marvel at is, Matthew Shepard's family has spent 15 years not fighting for their civil rights, but for mine, yours and those of your kids and neighbors and so many yet to come. Their unselfish example inspires me because it is for community, not self. I am honored they asked for my help with their work but none of us need wait to be asked. The path is clear to us and despite the remoteness of this place, it, and we, matter deeply
So if we are to rededicate ourselves to that path today, the poetry of this being the place we do it is powerful. We live a mile up in the air but we are led by those long buried in the ground. The air here is thin and chill but so strongly swept that it fills our sails nearly to bursting. We can see the mountaintop from here, and sometimes most clearly from a church basement window. When justice rolls down like waters, why not from here, where our nation's great rivers rise?
Dr. King called us in 1963 to go back, to farms and cities, and work and pray and struggle together, make crooked places straight, and see it done together. We have no time to lose and none of us to spare. Come quickly. The mountaintop awaits.