Don Lemon on Coming Out
From article Gay CNN Anchor Sees Risk in Book
Don Lemon, the weekend prime-time anchor for CNN, was on the air on Sunday night this month when the news broke that President Obama would address the nation at the unusual hour of 10:30 p.m.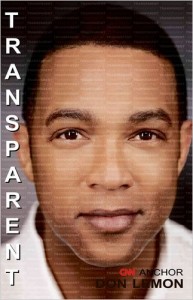 By the time the news network was confirming the reports of the death of Osama bin Laden, however, Mr. Lemon had been replaced by CNN's chief anchor, Wolf Blitzer.
"I kind of got big-footed," Mr. Lemon said, with a knowing laugh.
Now 45, though he looks much younger, Mr. Lemon understands the television news business from long experience, gathered through jobs at such local stations as WCAU in Philadelphia, WMAQ in Chicago and WNYW in New York.
So he has no illusions about what he is getting himself into with the book he has written about his career — and life. In"Transparent," Mr. Lemon has a lot to say about reporting for television and about journalism in general. But he knows enough about news to recognize what will get this book noticed.
"People are going to say: 'Oh, he was molested as a kid and now he is coming out.' I get it," he said.
Few national television news anchors or hosts have publicly acknowledged being gay. Rachel Maddow is perhaps the best known. Her MSNBC colleague, Thomas Roberts, has also come out as gay.
Mr. Lemon has not made a secret of his sexual orientation in his work life; many of his CNN co-workers and managers have long been aware that he is gay. But he still acknowledged that going public in his book carries certain risks.
"I'm scared," he said in a telephone interview. "I'm talking about something that people might shun me for, ostracize me for."
Even beyond whatever effect his revelation might have on his television career, Mr. Lemon said he recognized this step carried special risk for him as a black man.
"It's quite different for an African-American male," he said. "It's about the worst thing you can be in black culture. You're taught you have to be a man; you have to be masculine. In the black community they think you can pray the gay away." He said he believed the negative reaction to male homosexuality had to do with the history of discrimination that still affects many black Americans, as well as the attitudes of some black women…
Read the full story here: NYTIMES