Greg Miraglia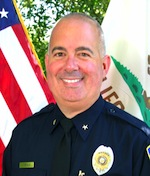 Greg Miraglia is the author of "Coming Out From Behind The Badge" and "American Heroes Coming Out From Behind The Badge," and serves as Vice President of the Matthew Shepard Foundation Board of Directors. Mr. Miraglia has 27 years of law enforcement experience including 7 years as deputy chief of the Napa Valley Railroad Police Department. He speaks to law enforcement professionals about dignity for victims and their families in the wake of hate crimes and the importance of share diversity in police departments. Greg also speaks about hate crimes and bias incident prevention. He also designed and now instructs the only state certified online Hate Crimes Investigations course in California.
Mr. Miraglia is also the host of Outbeat Youth Radio where he provides information for and about the queer youth. The show provides an outlet for queer youth who are often left in the shadows of their straight peers and never get the recognition they deserve. His goal is to share the stories of young LGBT people who are doing amazing things at their schools and communities with the greater community.
Greg Miraglia is the Dean of Career and Technical Education at Napa Valley College. He served as the director of the Napa Valley Criminal Justice Training Center Police
Academy for ten years and is National Program Coordinator for the Stop the Hate Program. He has a Master of Arts Degree in Education from the University of Phoenix and a Bachelor of Science Degree in Business from Empire State College. He has been active with the Matthew Shepard Foundation since 2001.