Judy Shepard
About the Program
In 1998, Judy Shepard lost her son, Matthew, to a murder motivated by anti-gay hate. Turning tragedy into a crusade for justice, and determined to prevent Matthew's fate from befalling others, she established The Matthew Shepard Foundation to help carry on his legacy.
Speaking from a mother's perspective, Judy Shepard has made the prevention of hate crimes and the acceptance of diversity the focus of her efforts, and urges her audiences to make their schools and communities safe for everyone, regardless of their sexual orientation, race, sex, religion, or gender identity and/or expression.
Over the last decade and a half, Judy has spoken at numerous schools, companies and community groups. From the United Nations to Walmart, from the University of Notre Dame to the University of San Francisco, Judy's message of acceptance is able to move hearts and minds of every audience she addresses. Time and time again, Judy has made a positive impact in the lives of the people she meets.
About Judy
Judy Shepard authored the New York Times best-selling book, The Meaning of Matthew: My Son's Murder in Laramie, and a World Transformed, a moving, intimate look at how her life, and the entire fight for equal rights, changed when her son was killed.
Additionally, Judy Shepard has appeared in two Human Rights Campaign advertisements urging an end to anti-gay violence and promoting a greater understanding of gay issues. Judy spent over a decade tirelessly campaigning for the passage of an LGBT-inclusive federal hate crimes law, which finally was signed in 2009. She continues to use her voice to advocate for acceptance of human diversity and dignity, and serves as president of the board of directors of the Matthew Shepard Foundation.
Endorsements
"[Judy] was a lovely lady to meet and spoke so eloquently about her tragic loss and gay rights. Her humor and humility set a hopeful tone to such an important topic."
— SUNY Fredonia
"Judy's strength lies in her personal story that she tells so quietly and effectively, without malice or anger. We were blessed to have her and she touched many hearts with her story."
— Frito Lay, Inc.
"Many students were listening to her victim statement and wiping tears away. As she spoke, the audience was mesmerized and she received a standing ovation!"
— Hofstra University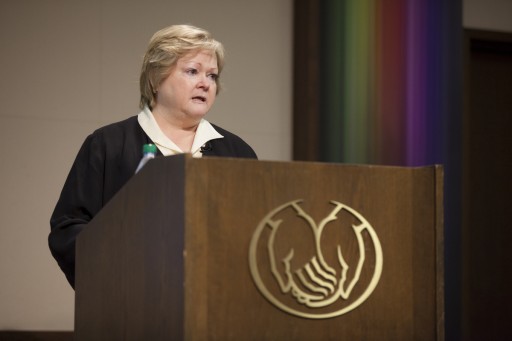 "I think you are a wonderful speaker and your soft-spoken, truthful and down-to-earth manner is something people need to see more."
—   Becca S. from Drew University
"It really meant a lot to us that you could address [us] about Matthew, the incident, and hate-crimes legislation. We know that your input will help our [History Day] project tremendously."
— Emma J., Wilson Wyoming
Booking Information
To inquire about availability and pricing of "The Legacy of Matthew Shepard," contact Randy Ehman with Keppler Speakers at:
rehman@kepplerspeakers.com or by calling 703.516.4000
Or contact the Programs Department of the Matthew Shepard Foundation at:
Booking@MatthewShepard.org or by calling 303.830.7400 ext. 15
For information on booking Judy to speak, please contact Keppler Associates.