Susan Burk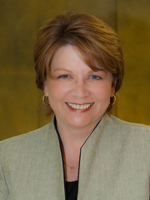 About the Program
The play The Laramie Project was created by Tectonic Theatre Company in the aftermath of Matthew Shepard's 1998 murder. It powerfully chronicles one city's reaction to a notorious anti-gay hate crime and is one the most performed plays in America.  Our Laramie Project Specialist, Susan Burk, is a former Wyoming broadcast journalist with professional theatre training and experience. She has strong ties to Matt's story, as well the play and its epilogue, The Laramie Project: Ten Years Later.
Ms. Burk assists professional companies, colleges and universities, high schools, community theatres, and religious groups with services including media resources, historical background and context, and creative consultation, and is helping educators build school curriculums. She has worked with productions all across the United States, as well as Canada, Australia, France, and the United Kingdom. Ms. Burk works in collaboration with the shows' creators, Tectonic Theater Project, and travels to different communities to lead post-show discussions, teach, and serve as a panelist for related community-wide discussions on how to create a more civil, compassionate, and just world.
About Susan Burk
Susan Cunningham Burk has strong backgrounds in theatre, journalism and Matthew's story. At the time of Matthew Shepard's murder, his funeral, and the trials of his killers, Ms. Burk was the Executive Producer/Senior Anchor for the evening news at KTWO Television. Based in Casper, KTWO-TV was the statewide NBC affiliate, and it was Ms. Burk's primary responsibility to arrange and implement coverage for all of these events, including community reaction and response. She produced an award-winning news series on the filming of HBO's production of The Laramie Project and appeared in the film; performed The Laramie Project with the theatre group in which Matt acted as a child; and was part of one of the acting companies that participated in the international webcast premiere of The Laramie Project: Ten Years Later.
Ms. Burk attended the Goodman School of Drama and worked as a professional actress in various venues before moving to Casper with her husband and starting a new career in journalism. She joined the Matthew Shepard Foundation staff in 2011, and continues to expand and enhance her program to include broader topics and further educational resources that highlight how Matt's story remains relevant to America and the world today. Ms. Burk also remains active in local theatre productions.
Endorsements
"Her character, her professionalism, and how well she did supporting our production, and forwarding the mission of the Matthew Shepard Foundation were all beyond reproach… Because of her visit, we experienced a dramatic increase in community awareness and thus ticket sales. Not only did we spread the ultimate message of ending hate and generating continued awareness of Matthew's story, but we have created more community awareness for our own organization and all that we offer. As you move forward with your mission, I can think of no better person to represent you, Judy, Dennis, and the Foundation. She is a remarkable woman who possesses a tremendous work ethic, and a deep passion for this cause. Simply stated, she is a light that shines brightly for all that Matthew believed."
— Director Timothy Wyman, Corn Stock Theatre, Peoria, IL.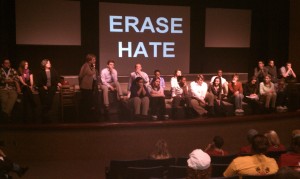 Booking Information
To inquire about Laramie Project production support, or to inquire about the availability and pricing of Laramie Project post-show discussions, contact the Programs Department of the Matthew Shepard Foundation at:
Booking@MatthewShepard.org or by calling 303.830.7400 ext. 17
[bitsontherun vid="IUA9kFMg" pid="wyb5YmXy" ]