Adam Rippon
2018 Award Recipient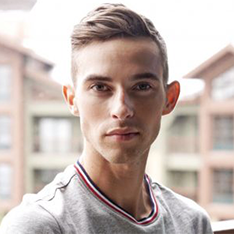 Artist. Athlete. Activist.
Adam Rippon is a combination of all three.
One of the most dramatic figure skaters on the planet, Adam won the hearts of America and the world at the 2018 Winter Olympics.
Known for his refreshing candor and wit, his rise to fame on the global stage has provided him with a platform to speak out in support of LGBTQ rights and the freedom to be oneself.
His passion and charm have made him an inspiration to young and old alike and he has quickly become a role model and icon to millions.
Recently named to the TIME 100 List of Most Influential People with an introduction written by Cher, Adam was one of just five honorees invited to toast at the star-studded gala. He has been honored by the Human Rights Campaign (HRC) with their Visibility Award, has supported the GLAAD Ambassadors Program through an online fundraising campaign and received the Best of the Best Champion Award from the National Gay and Lesbian Chamber of Commerce (NGLCC).
In addition to his recent team bronze medal at the 2018 Winter Olympics in PyeongChang, Adam has garnered nine medals on the international circuit over the last four years, including the 2016 U.S. men's championship title.
The oldest of six children from Scranton, Pennsylvania, Adam rose through the skating ranks, claiming the world junior title twice before winning the U.S. men's title in 2016. He was named to his first Olympic team in 2018 at the age of 28.
Adam also made the bold decision to come out publicly in October 2015 in an interview with SKATING magazine which led him to become the first openly gay athlete to represent the United States in Olympic competition.
He has been featured on the cover of the New York Times Style section and OUT Magazine and celebrated in the pages of InStyle, Rolling Stone, Vanity Fair, People Magazine, Harper's Bazaar, Elle Cosmo and many more. His easy conversational style and sense of self have landed him appearances on Ellen, The Late Show with Stephen Colbert, TODAY and Good Morning America, among others.
Adam is currently touring with Stars on Ice, www.starsonice.com and competing on Dancing with the Stars: Athletes.
Follow Adam on social media:
Twitter: @adaripp
Instagram: adaripp