Sara Grossman
Communications Manager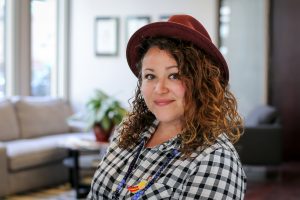 Sara Grossman is the Matthew Shepard Foundation's Communications Manager. She graduated from UCF in Orlando, FL in 2007 with a BA in English, Psychology, and Humanities. She graduated from The New School in NYC in 2010 with an MFA in Creative Nonfiction Writing.
Sara comes to the Foundation with an extensive background in digital marketing and communications. The nonprofit and advocacy worlds are no strangers to her; she has previously worked for Revolar, One Colorado, The Gill Foundation, and Representative Rhonda Fields.
Sara's experience as a storyteller and out-of-the-box thinker will be paramount to continuing Matthew's story. In her new role as the Foundation's Communications Manager, Sara manages press inquiries, print and digital communications, social media, editorial branding, multimedia production and long term communication strategy.
Sara Grossman