What is the Foundation?
After their son was killed, Judy and Dennis Shepard set out to ensure people recognize the role that hate plays in society, and to ask people to do all they can to erase that hate. They founded the Matthew Shepard Foundation on that principle, and the Foundation continues to create open dialogues with a diverse range of people in order to erase hate.
What does the Foundation do?
Through local, regional and national outreach, we empower individuals to find their voice to create change and challenge communities to identify and address hate that lives within their schools, neighborhoods and homes.
The Matthew Shepard Foundation is the foremost leader dedicated to ending hate crimes by uniting its expertise and the power of Matt's story to change hearts and minds.
Learn more about our efforts to Change Hearts and Minds and Eliminate Hate Crimes.
Aren't there other groups out there that do the same work? Why do you exist?
It's true that there are several very effective LGBTQ+ groups advocating for various issues, but the Foundation has a unique perspective. Matt's death was a watershed moment for our country and the world. It gave a face to hate crimes, especially anti-gay violence. Because our work is rooted in Matthew's story, powerfully told by his parents, we bring unparalleled authenticity and relevance to the impact of hate.
What are the Foundation's greatest achievements?
Since our formation, the Foundation has helped pioneer the country's first federal hate crimes legislation with the passing of the Matthew Shepard and James Byrd, Jr. Hate Crimes Prevention Act in 2009; provided hate crimes training to over 1,400 law enforcement officers prosecutors since May 2017; created dialogue about hate and acceptance within communities around the world; and built a robust collection of resources to support the Laramie Project and other legacy works inspired by Matt's story.
It is our sincerest hope that, one day, the Foundation may be able to close its doors. But the same hate and violence that sparked the Foundation's formation still exists today, both at home and abroad. We will continue to work tirelessly to ensure safety, visibility and inclusiveness for the entire LGBT community until that ideal becomes reality.
Aren't you mostly supported by celebrities?
While it is true that many celebrities and notable personalities have lauded the work of the Foundation, most of our support comes from the grass-roots level. We operate revenue generating programs, but like all non-profits, we rely on the generosity of a broad base of supporters, like you, to keep our doors open.
How did the Shepards react when they found out the news of Matthew?
Dennis and Judy were in Saudi Arabia, where Dennis was working at the time, when the hospital called to say Matt had been admitted with serious head injuries. Initially, there weren't any details available, other than that his condition was very critical and that they should come, so the Shepards began the long process to fly back.
Needless to say, Dennis and Judy were in a state of confusion and shock—no one could explain what had happened, who was responsible, or why any of it had happened at all. That all came days later, when they found out Matt was the victim of one of the most notorious anti-gay hate crimes in the nation's history.
How did Matthew's death impact society?
Matt's death was a major historical event, which outraged millions of people and provoked discussion about legislation, social attitudes, public safety and the struggle for LGBTQ+ people to enjoy full equality. For a variety of reasons, Matt became a personal symbol of the injustice of hate crimes and a rallying point for the LGBTQ+ rights movement. Countless people of Matt's generation chose to come out of the closet in support of the community when he was murdered. Others who felt even more afraid to do so, later remembered his death when they ultimately chose to acknowledge their sexual orientation. He was also a very important example of the vulnerability of LGBTQ+ youth which was highly motivational for parents, teachers and other adults to reflect upon in choosing how to treat similar young people in their own lives. Over the past two decades, we have learned that Matt's story has the power to inspire others to join the fight, so we keep that hope alive by keeping Matt's story alive.
What exactly are 'Matthews Angels'?
During the 1999 trial proceedings against Matt's killer Aaron McKinney, the Westboro Baptist Church of Topeka, Kansas protested in front of the courthouse in Laramie, Wyoming while waving vulgar signs and shouting hate speech. Matt's friend Romaine Patterson and others fashioned angel costumes with broad white wings and encircled the church group, spreading their wings to make them impossible to see from the crowd where media cameras were located. This act is immortalized in the play (and later HBO production of) The Laramie Project.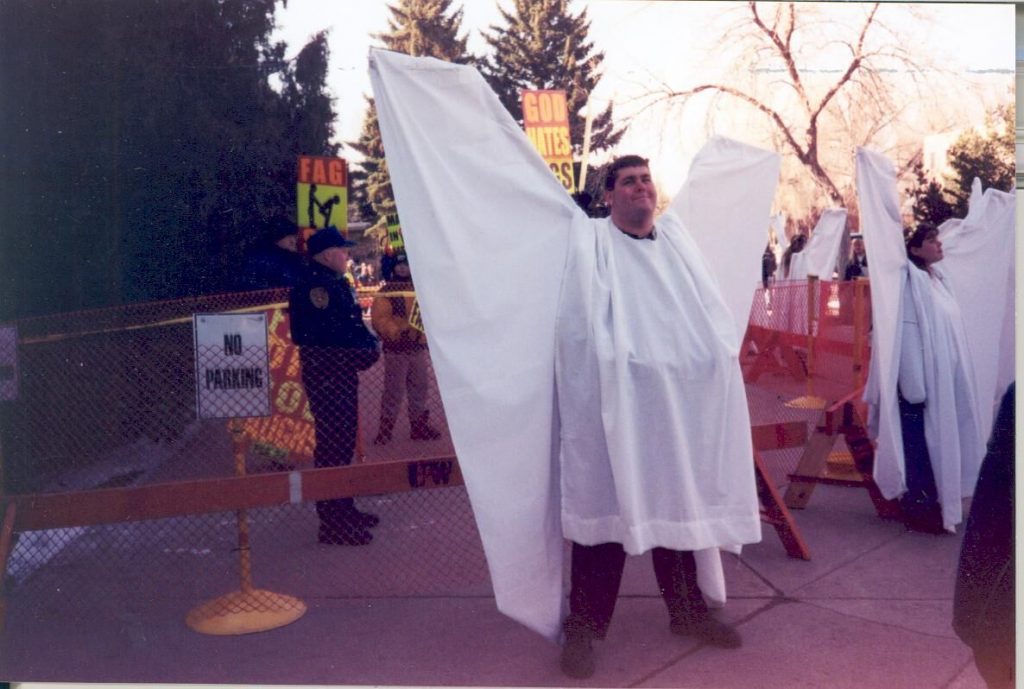 Where is the fence where Matthew was found?
The fence was taken down by the landowner not long after the murder, because so many people were trespassing on the land to come pay homage at the site. There are a number of differing accounts about the fate of the fence. Some say the pieces of wood were incorporated into other fences on the property, some think the section was moved whole to another location nearby, some say the wood is in a storehouse or barn somewhere. We probably will never know, but as Matt's mother Judy says, for those who come out to pay their respects it's not necessarily the fence itself but the sense of place that often is the most moving. A bench dedicated to Matthew's memory and unveiled with the Shepards at the University of Wyoming is located on the east entranceway to the Arts & Sciences Classroom Building on campus in Laramie.
Is the Matthew Shepard Foundation only focused on ending hate against the LGBT community?
The Foundation is for everyone. For all populations and anyone who is discriminated against or attacked because they are different or perceived to be different. After Matt was killed, Judy and Dennis began to campaign tirelessly not just for 'gay rights,' but for human dignity and acceptance. Because, as the Shepards often state, "erasing hate is not a gay issue or a straight issue; it's a human issue."
Has significant-enough progress been made when it comes to LGBTQ+ equality and civil rights since the Matthew Shepard Foundation started?
Significant progress? Yes. Enough? Of course not. While the Matthew Shepard Foundation is grateful that LGBTQ+ and gender-inclusive hate crimes legislation has been enacted at the federal level, the work does not end there. At home and overseas we see hatred and division rising yet again, imperiling all of that progress and threatening a return to a dangerous and unequal daily life for people of all minority identities, particularly those who identify as LGBTQ+. It is for this reason that our efforts to erase hate are more important than ever before.
How do the Matthew Shepard Foundation's goals and objectives evolve as more progress is made?
Our overall goals have not changed much, because changing hearts and minds is a lifetime commitment. So many aspects of true equality for all Americans — not just LGBTQ+ Americans is a slow process. Although we've improved and increased hate crimes laws throughout the nation, success requires law enforcement, prosecutors, victims and offenders to change the way they think and act in order for it to fulfill its purpose — to prevent and eliminate bias crimes and protect communities. And that is only one of the many issues. As we've always said, it is our sincerest hope that, one day, the Foundation may be able to close its doors. But the same hate and violence that sparked the Foundation's formation still exists today, both at home and abroad. We will continue to work tirelessly to ensure safety, visibility and inclusiveness for the entire LGBT community until that ideal becomes reality.
How can I find out more about Matthew and his life before he died?
In the aftermath of Matthew's death and for years following it, the legacy of "Matthew Shepard" sparked natural curiosity into details of his life — who was Matt, and why did this happen to him? In her New York Times bestseller, The Meaning of Matthew: My Son's Murder in Laramie, and a World Transformed, Judy Shepard explores the family's journey, including Matthew's life, the prosecution of his murderers, the ensuing media coverage, and the family's continuing work to advance civil rights. The Foundation strongly encourages those interested in more details about Matt to read Judy's book, where she shares memories, conversations and details about Matt's life.
Additionally, longtime friend and filmmaker Michele Josue created Matt Shepard is a Friend of Mine, a feature-length documentary about Matt that "revisits the shocking case with never-before-seen photos, rare video footage, and new revelations about Shepard's all-too-brief life."
Will Matt's murderers ever be release from prison?
In short, no. In Wyoming, there is a distinction between life in prison and life without the possibility of parole or commutation. Russell Henderson pleaded guilty before his trial was to start in order to avoid the death penalty. He received two life sentences, for kidnapping and murder, to be served consecutively (one after the other) rather than concurrently (at the same time). This means he has virtually no chance for release. Aaron McKinney, who actually killed Matthew, was convicted at trial and before the sentencing phase of the trial his defense team reached an agreement with the prosecution and the Shepard family to take the death penalty off the table. McKinney was sentenced to two consecutive life terms with no possibility of parole. The idea was to end the case and avoid the endless appeals of a death penalty conviction, including the possibility either Henderson or McKinney might be released on a technicality. Additionally, the Shepards, especially for the sake of their other son Logan, wanted the killers to have no more publicity or voice, which the killers agreed to. However, they have broken that promise and given conflicting, self-serving interviews to the media.