The Bear to Make a Difference Gala an opportunity for community members, civic leaders and corporate partners to come together to support the work of the Matthew Shepard Foundation and those who share our commitment to a future free from hate.
MC: Mike Nelson
Special Guests: Judy and Dennis Shepard
2017 Bear to Make a Difference Gala
6:00pm
Saturday, October 14, 2017
The Westin Denver Downtown
1672 Lawrence Street
Denver, CO, 80202
Look for hotel accommodations? The Matthew Shepard Foundation has reserved a guest room block at the Westin Downtown Denver Hotel for $209. To reserve your room, call 888-627-8435 and mention the Matthew Shepard Foundation Guest Room Block.
September 18th is the deadline to reserve your room.
2017 Award Recipients
Dennis Dougherty Award for Community Leadership
Daniel Ramos
Daniel Ramos is the Executive Director at One Colorado. Before taking on this role, Daniel served as Deputy Director, Director of Safe & Inclusive Schools, as well as the Political and Organizing Director — managing our safe schools program and leading One Colorado's work to mobilize, educate, and engage the LGBT community around important issues.
Prior to joining One Colorado, Daniel served as an Organizer for the Stonewall Democrats' "Elect-Equality" Initiative. As an Organizer in Palm Springs, CA, Daniel worked to execute an aggressive field plan to recruit, train, and manage volunteers to facilitate voter engagement.
Throughout Daniel's college career, he was involved in many local, state, and national organizations. After years of involvement in the University of Colorado Student Government, Daniel was elected as a Student Body President in 2009. During his term, he advocated for many diversity and sustainability initiatives, including a program that established CU-Boulder as the First Zero-Waste Student Government in the United States.
Also during college, Daniel was active in the Associated Students of Colorado and the United States Student Association, organizations that advocate for access and affordability in higher education. Serving on USSA's National Board of Directors and Executive Board, Daniel worked as a Regional and National Outreach Officer to develop outreach plans to build membership across the country. Recognizing barriers that exist in higher education, Daniel educated and mobilized students in Colorado around issues like Student Aid Reform and the DREAM Act.
Growing up in northeast Colorado, Daniel graduated from Sterling High School and went on to attend the University of Colorado at Boulder. He graduated with a Degree in Sociology and Spanish and holds a Certificate in the Study and Practice of Leadership as a scholar in the President's Leadership Class. Outside of work, Daniel enjoys traveling, spending time with his family, being active outdoors, and exploring his interest in Spanish language & culture.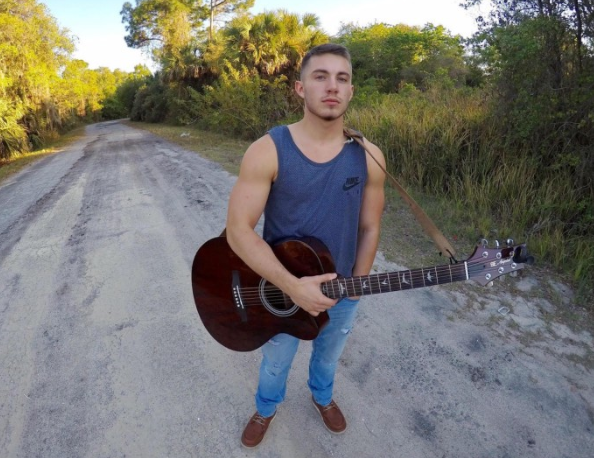 Jaimie Wilson
Jaimie is a transgender singer/songwriter, using his voice for good. Music, he explains, is much more than just a personal passion, it is a way to contribute- to give back: "Being transgender, I have always struggled with trying to make others happy but I want to show that it's okay to break free. I'm hoping with these words I can bring the community together and encourage others in similar situations to be true to themselves."
All the time, music is his outlet and his motivation which drives him to attain success. Yet, he also knows that as his story gained greater awareness on social media he wants to help out and not sit back and be silent.
"My motive for being a trans activist is spreading awareness. I am in a position to be able to help others and be visible so I do what I can. I had no support from family or friends so I know how helpful it can be to have someone give out binders, donate to their gofundme campaigns, speak for them when they don't have the voice. It's very important to me," he says. Read more about Jaimie here.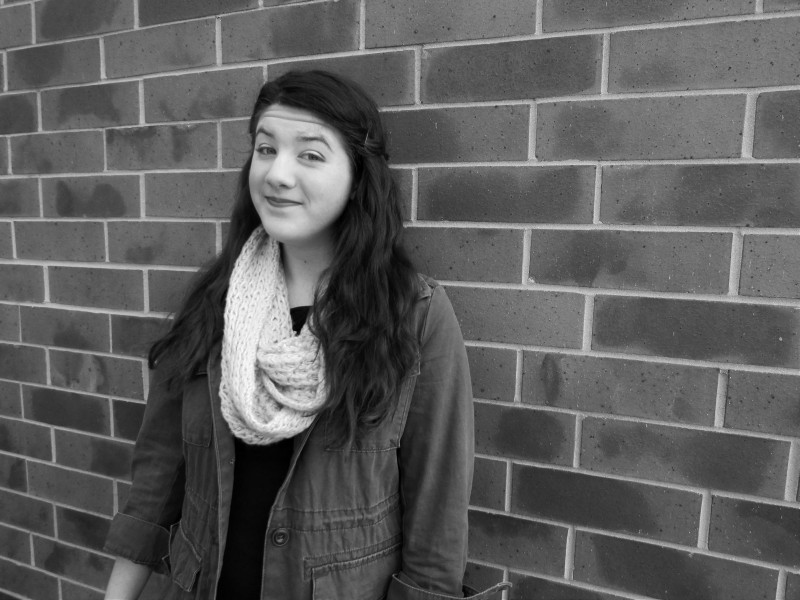 Alyssa Sileo
Alyssa is the team leader for The Laramie Project Project, a theater group from New Jersey that sought out forty-nine groups to conduct performances or hold readings of The Laramie Project this year. They assigned the name of a Pulse victim to each school to dedicate a production in their honor. What's even more impressive? Alyssa is only 17. Her initiative is now worldwide and she intends on continuing this project into the future. Read more about Alyssa and LPP here.
View photos from our 2016 Gala
A key component to our success at our annual gala is help from passionate supporters like you. Before the event or the day of, there are plenty of opportunities for volunteers to be a part of this great yearly event. This includes but is not limited to:
Selling tickets
volunteering as a Table Captain
Event setup and preparation
Gathering items for, organizing and facilitating the Silent Auction
Helping attendees participate in gala events
If you're interested in volunteering for our Annual Honors Gala on October 10, 2015, please contact Development Director Joshua Anderson or submit our volunteer form.
Bearlesque to Make a Difference
Kick of the Gala weekend in style! Join the Matthew Shepard Foundation on Friday, October 13th at the Denver Wrangler for a special pre-Gala community celebration, "Bear-lesque to Make a Difference."
Special Emcees: Nuclia Waste & Gabbriella But'zin
Special Guests: Judy and Dennis Shepard
Friday, October 13th
Denver Wrangler
8:00pm: Doors Open
9:00pm: Show Start
Click here to purchase tickets or visit www.MatthewShepard.org/Bearlesque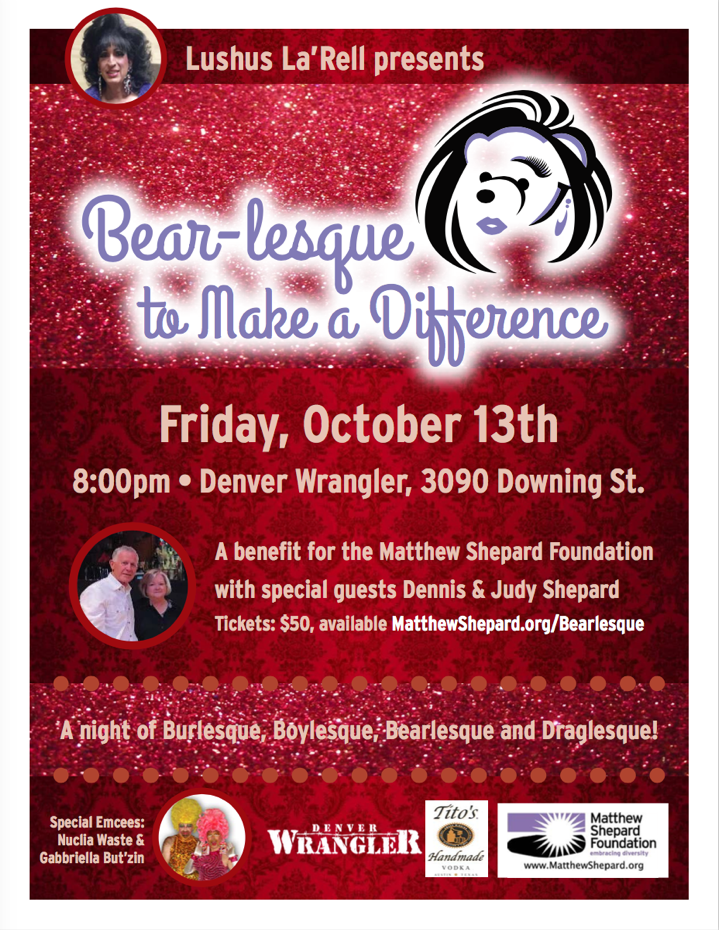 Past Award Recipients
2016 Making A Difference Award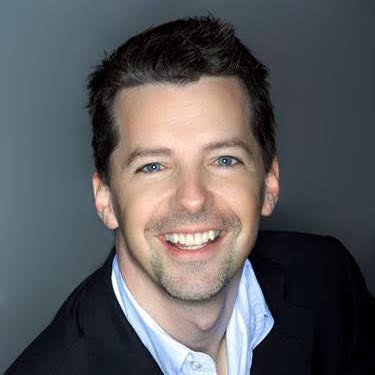 Sean Hayes
Sean Hayes is an award-winning Actor and Producer who got his start in the role as Jack McFarland on the sitcom Will & Grace.
Jonathan Capehart
Pulitzer Prize-winning journalist Jonathan Capehart is a member of The Washington Post editorial board and writes about politics and social issues for the PostPartisan blog. He is an MSNBC Contributor, regularly seen on "Hardball" and "Morning Joe" and has served as a substitute anchor on "UP," "Hardball," "Way Too Early" and other MSNBC programs.
Matthew Shepard Foundation Honors is produced by: 
Bear to Make a Difference Gala