Friends of MSF:
Last week, you may have read that the Trump administration recommended 7 words to not be used by the Centers for Disease Control: "fetus," "transgender," "vulnerable," "entitlement," "diversity," "evidence-based" and "science-based."
We know that hate, and the violence caused by hate, always begins with words. Name-calling, teasing, bullying, cyber bullying; they're all one and the same.
We are in the business of erasing that hatred, and it begins with language. To ban discussion around transgender people, one of our most vulnerable populations is a form of entitlement from a White House trying to erase diversity. You don't need science-based or even evidence-based research to know this. Also: fetus.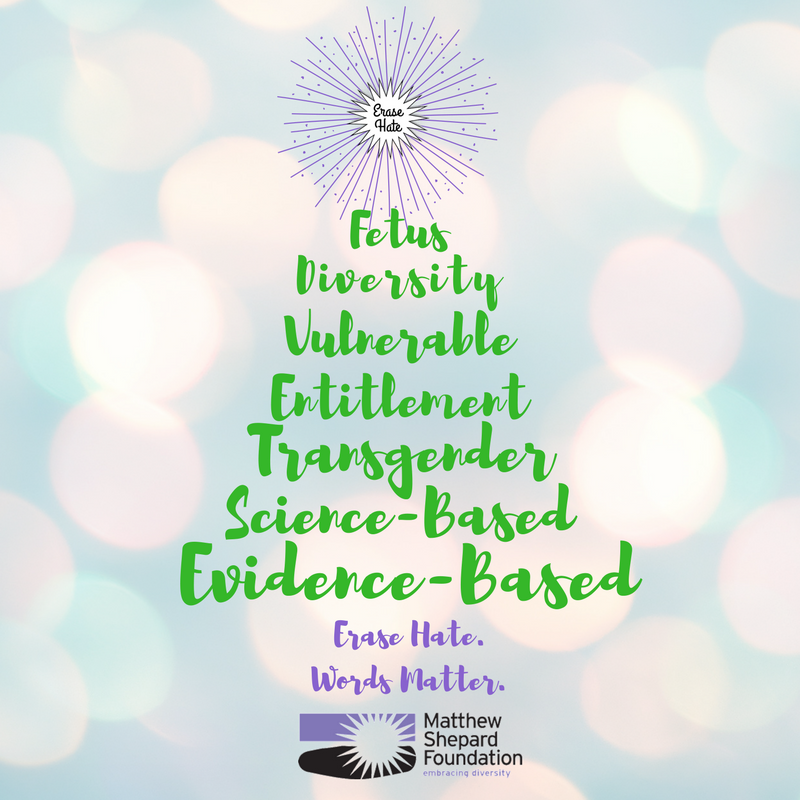 All kidding aside, we are watching this story very carefully, with the knowledge that it is more important than ever to we connect with the communities that are, indeed, the most vulnerable to this hateful rhetoric. We need folks like Judy and Dennis Shepard on the ground, in cities, schools and workplaces all across the country, helping to teach kindness, understanding, and compassion.
Thankfully, the CDC Director is on the side of truth and will continue to make sure important public health programs are still taught and talked about without censorship.

As we finish out the year, we want to thank you for being on the right side of history–the one that erases hate from our vocabulary.
If you haven't made your year-end donation, we can use your support more than ever. Our 2018 calendar is filling up with outreach requests and we want to honor every one of them if we can. We know that you're probably being bombarded with donation requests, but this work can't wait. $5, $25, or even $50 goes a long way around here. If you can help us get to places like Cleveland, Indianapolis, Detroit, and San Antonio, now is the time to chip in!
Thank you for your support and commitment to help us Erase Hate. We couldn't do this work without you.
Many thanks,
The Matthew Shepard Foundation