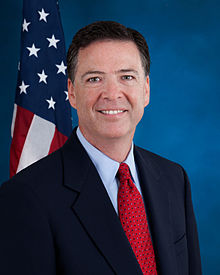 Federal Bureau of Investigations Director James Comey yesterday called for an increase in reporting of hate crimes by local jurisdictions. We are glad to see that his office, the FBI and the Department of Justice are taking this matter seriously. "[W]e need to do a better job of tracking and reporting hate crime to fully understand what is happening in our communities and how to stop it," Director Comey said. We join him in asking all jurisdictions to report.
When the FBI releases hate crime statistics each year, they warn against ranking or drawing conclusions about cities, counties or states based on the report or year-to-year fluctuations in overall hate crime reports. Because reporting these crimes to the FBI is not required, nearly 30% of local jurisdictions submitted no report. These more than 5,000 cities, towns and counties that failed to submit a report to the FBI for the annual collection and study of hate crimes are equivalent to no reports being filed by California, Illinois, Oklahoma, Pennsylvania, Texas and Wyoming, combined. Of the 13,022 agencies that did report, only 1,730 reported any crimes motivated by hate. That means less than 10% of jurisdictions are reporting the hate that happens in their communities. That is simply not enough.
"We must continue to impress upon our state and local counterparts in every jurisdiction the need to track and report hate crime," Comey said. "It is not something we can ignore or sweep under the rug."
When two out of every three hate crimes go unreported to law enforcement and too many jurisdictions are not even reporting these crimes, the system is failing us. Targets of all hate should be safe to report the crime to local law enforcement. If a target doesn't feel their report is not being taken seriously or investigated properly, the crime should be reported to the local FBI office in accordance with the Matthew Shepard and James Byrd, Jr. Hate Crimes Prevention Act.
We are proud to work with the Department of Justice and FBI to help local law enforcement officials learn best practices for investigating hate crimes and the added sensitivity officers should show targets and communities during the process.
All jurisdictions should report full and accurate hate crime information to the FBI annually so we can better see the scope of hate in communities and the country, and work to replace that hate with understanding, compassion and acceptance.