The Matthew Shepard Foundation was privileged to have the opportunity for Judy and Dennis Shepard to discuss issues of bullying and hate crimes with students, administrators and government officials in Lexington, Kentucky on August 27. After the recent ruling for nationwide marriage equality by the Supreme Court this past June, the Foundation and others advocating for the LGBT community are persistent in ensuring our brothers, sisters and allies don't become complacent: the work to Erase Hate and achieve full equality is far from over.
In conjunction with Chief Attorney Kerry Harvey of the U.S. Attorney's Office Eastern District, Judy and Dennis shared Matthew's story with more than 500 students of Fayette County Public Schools (FCPS), with hundreds more streaming the Shepards' presentation in their classrooms throughout the school district. Joined by Lexington's first openly gay mayor, Jim Gray, and FCPS Superintendent Emmanuel Caulk, the Shepards encouraged students to accept and care for others as they are, and to not take issues of hate and bullying lightly.
"'Normal' is everyone having the chance to be themselves and be who they are. That's 'normal,' Judy said. "You need to raise people up, not cut them down. That's how we succeed."
Dennis said, "We are losing young people like you because they lose hope from bullying. It's up to you to stop this … if no one is there to approach someone about their hate, it won't stop."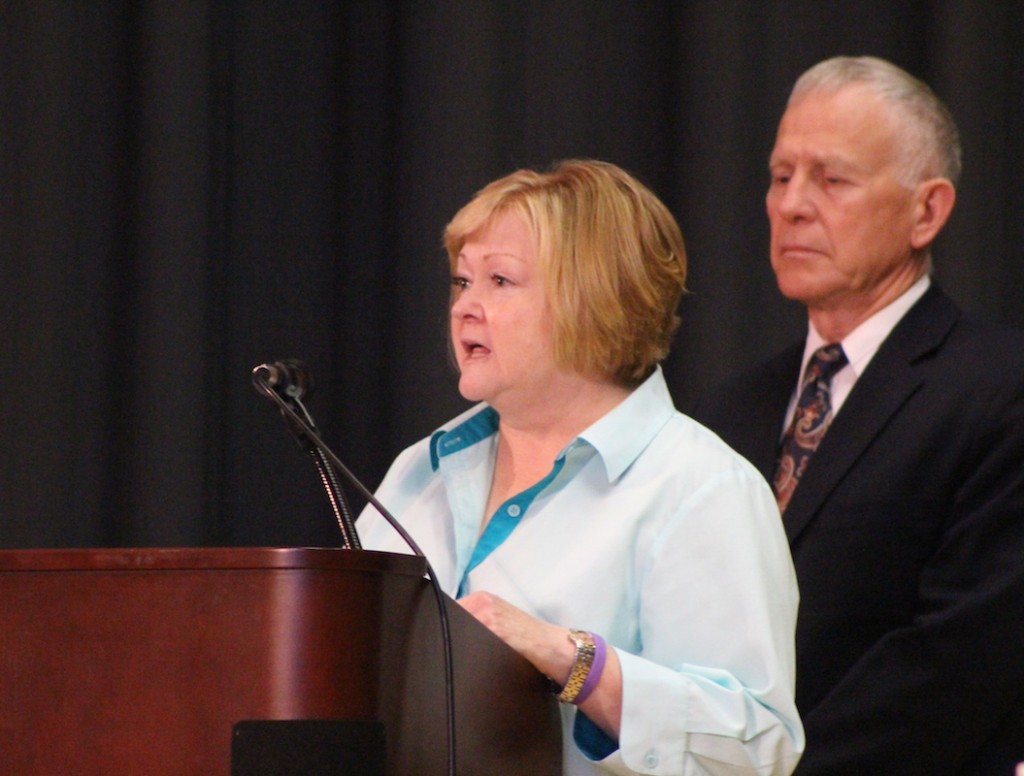 In 2012, federal attorneys in Kentucky prosecuted their first case involving a violation of the Matthew Shepard and James Byrd, Jr. Hate Crimes Prevention Act, where the defendants were believed to have committed an anti-gay hate crime against Kevin Pennington. Although the defendants were acquitted of hate crimes charges, Chief Attorney Harvey said it's likely they would have walked without the Shepard-Byrd Act. In Harvey's reflection of the 2012 case there are eerily similar circumstances to Matt's story and murder, reminding us at the Foundation, and the community at large, that the epidemic of anti-gay violence and hate-motivated crime is far from erased.
But in towns like Lexington, where the Fayette County Board of Education's anti-discrimination policy includes language for sexual orientation and gender identity, we're given hope that compassionate advocates for the community honor Matt's legacy by encouraging others to be open and accepting to everyone. Mayor Gray reiterated Judy and Dennis' words to speak up against hate. "I didn't speak out enough then, but I am encouraging you to do so now," he said. "[High school] is a time to learn about different perspectives and appreciate diversity; to be a compassionate city means caring for others, being open minded, and having empathy. It means looking out for each other. Don't wait for situations to escalate. Speak up."
Before addressing the staff at the U.S. Attorney's Office in downtown Lexington, the Shepards attended a panel discussion at the University of Kentucky regarding the history, legacy and significance of the Shepard-Byrd Act. The federal legislation was a milestone moment for the LGBT community, with Matt and James Byrd, Jr. providing a face and focal point for those outside these communities to recognize that inequality, brutality and hate were still claiming lives. But Judy and Dennis were sure to remind those in attendance that like marriage equality, which is not the be-all-end-all in the fight for equality, the Shepard-Byrd Act is not finished work.
The Foundation is grateful for the opportunity to share Matt's story in order to change hearts and minds, and encourage our youth, and those guiding them, to live openly and accepting of others. The students and people of Lexington left us hopeful that a future free of hate is possible.