We have a lot to be thankful for this year. Family, friends, and you: our support system. We would not be able to continue doing this work without you. Thanksgiving arrives during a time of great polarization in our country. It is hard to not stay enveloped in stories of tragedy, abuse or malintent in our mission for justice, but we at the Matthew Shepard Foundation are taking today to acknowledge the love that started all of this. Love for a son, for a mother, for a friend or a partner. It is this love that unites us each and every day we do this work. We encourage you to focus on finding compassion and love in your hearts during this holiday and to share it with all those around you. Whether that person sits across the aisle or the dinner table, we can come together on this day and find commonality over differences.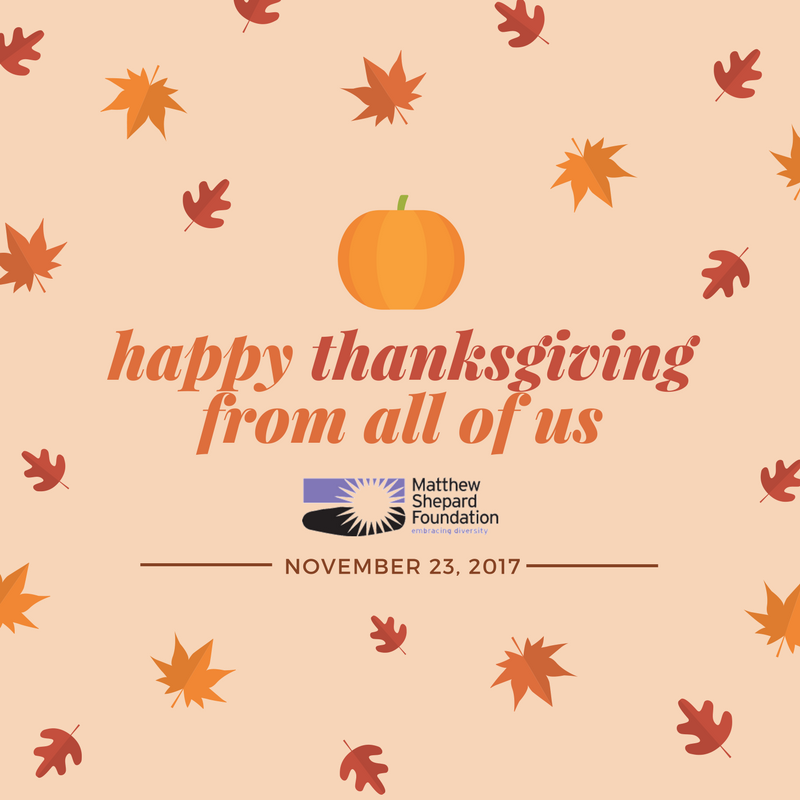 We want to share our heartfelt thanks for supporting and living this mission to Erase Hate, as well as a Shepard family holiday recipe:
Judy's Famous Chocolate Sheet Cake
For this 10½-by-15½-inch cake you will need:
– 2 cups granulated sugar
– 2 cups all-purpose flour
– ½ tsp. salt
– 1 cup (2 sticks) butter or margarine
– 1 cup water
– 3 Tbsp. dark unsweeteened cocoa
– ½ cup sour cream
– 2 eggs
– 1 tsp. baking soda
– ½ tsp. cayenne pepper
For the frosting:
– ¼ cup (½ stick) butter or margarine
– ⅓ cup dark unsweetened cocoa
– 2 cups powdered sugar
– ¼ cup milk
– 1 tsp. vanilla
Preparation:
1. In a large bowl, combine sugar, flour and salt. Set aside.
2. In a small saucepan, bring butter, water and cocoa to a boil. Remove from heat.
3. Add liquid ingredients to dry ingredients. Blend well.
4. Mix sour cream, eggs, baking soda and cayenne pepper. Add to the cake batter. Blend well.
5. Grease and lightly flour a 10½-by-15½-inch jelly roll pan. Turn batter into the pan.
6. Bake at 375°F for 20 to 25 minutes. Do not over bake.
7. For frosting, melt butter; add cocoa. Add powdered sugar, milk, and vanilla. Mix until smooth and free of lumps.
8. Spread frosting on the almost-cooled cake. Cut in squares, and serve.
So, from my family and the rest of the Matthew Shepard Foundation: thank you! Today, as we gather around the table and share what we are thankful for, know that those who support the work we do are my number one.
Much love,
Judy Shepard
President
Matthew Shepard Foundation