We have some really exciting news in the form of a partnership! Over the next few months, we are teaming up with our friends at the Tectonic Theater Project to spread our message of erasing hate. And this campaign will culminate in a special celebrity reading of The Laramie Project in NYC!
Twenty years ago, the eyes of the nation were drawn to Laramie, Wyoming after the hate crime murder of Matthew Shepard. In the following weeks, the Matthew Shepard Foundation was founded and members of Tectonic Theater Project traveled from New York to Laramie to conduct interviews with the people of the town. These interviews formed the basis of The Laramie Project, which has become one of the most performed contemporary plays in the world, translated into dozens of languages.
On September 24, 2018, the Matthew Shepard Foundation and Tectonic Theater Project will present LARAMIE: A LEGACY, a benefit reading of The Laramie Project to honor the progress made over the last two decades to erase hate and highlight how each of us can do more every day to continue the work.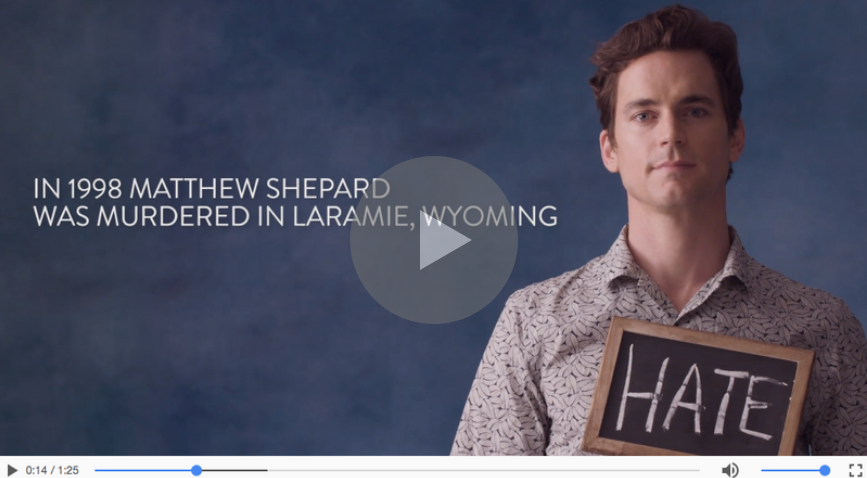 The Laramie Project was recently named one of the 25 Best Plays of the Last 25 Years by The New York Times, noting the work's "extraordinary power, impact, and resilience."
Performers for the evening include Emmy and Tony Award winner Neil Patrick Harris (Hedwig & The Angry Inch, "How I Met Your Mother"); Tony, Emmy and Golden Globe Award winner Mary Louise Parker (Proof, "Weeds"); and Tony Award winner Billy Porter (Kinky Boots, "Pose"); joining the original company of The Laramie Project: Stephen Belber, Amanda Gronich, Mercedes Herrero, Andy Paris, Greg Pierotti, Barbara Pitts McAdams, and Kelli Simpkins. Tectonic Theater Project founder and Artistic Director Moisés Kaufman directs.
Additional cast members will be announced at a later date.
Proceeds from the ERASE HATE PSA and LARAMIE: A LEGACY will benefit both the Matthew Shepard Foundation and Tectonic Theater Project, and their concurrent missions to educate and erase hate across the country through theater and activism. Company initiatives include Tectonic Theater Project's Moment Work Institute, which trains over 1,000 students and emerging artists each year in Tectonic's unique and powerful theater-making technique, and The Matthew Shepard Foundation's continuing programs to foster a more caring and just world, including hate crime trainings for hundreds of police annually.
Tickets are available now by visiting www.laramiealegacy.org. You can also view a complete resource set on the ways you can personally take action to #EraseHate!
We hope to see you in September for this incredible event!
=