by Sam Gardner for Fox Sports
In his historic coming-out essay Monday, NBA veteran Jason Collins revealed to Sports Illustrated that he wore the number 98 in 38 games this season while playing for the Boston Celtics and Washington Wizards as an unspoken "sign of solidarity" with the gay community.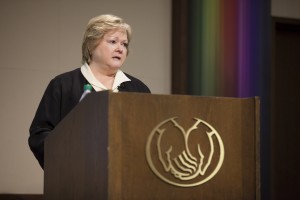 He said he did so as a nod to the Trevor Project, an LGBTQ suicide prevention foundation founded in August 1998, and also in memory of Matthew Shepard, a 21-year-old University of Wyoming student who was killed in October 1998 in one of the most infamous antigay hate crimes in history.
Shepard's parents, Dennis and Judy, had never spoken to or met Collins before receiving an email from David Smith of the Human Rights Campaign with a link to the SI piece Monday morning, but it doesn't make Collins' expression of unity any less meaningful.
"It made me cry," Judy Shepard told FOXSports.com during an interview Monday afternoon. "It was really quite a tribute, and I was very honored. And I know Matt would be thrilled."
And the Shepards hope, someday, to be able to thank Collins personally for his bravery in opening himself up to the world and honoring their son's name in the process.
"I would really love to speak to him, because I know Judy and I would just like to thank him," Dennis Shepard said. "Because, No. 1, he had the courage to come out, period, and No. 2 that he wore 98 in honor of Matt, the year that he died.
"(Collins) couldn't have been that old (when it happened), so it must have had a tremendous impact on him, the story behind Matt, for him to want to do that. And then to wear it all this time without telling people why until today, that's incredible."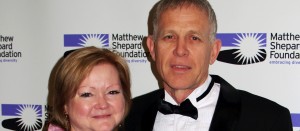 For the Shepard family, who started the Matthew Shepard Foundation on Dec. 1, 1998 — what would have been Matthew's 22nd birthday — as a way to promote awareness and positive change with respect to the gay community, progress is vital regardless of where it comes.
In 2009, it came in the form of the passage of the Matthew Shepard and James Byrd Jr. Hate Crimes Prevention Act, which effectively classified anti-gay crimes as hate crimes.
"It's a whole different world now from when we first started doing this," Judy Shepard said. "It's remarkable in the big picture how fast things have changed, especially since Obama became president. It's just moved right along at light speed, and it's really been quite remarkable."
But to see that motion toward change come in the world of sports, an arena that's somewhat lacking when it comes to gay rights, was particularly meaningful.
"Hopefully this will start the conversation saying there's no difference, as long as my team wins, who cares if they're straight or gay?" Dennis Shepard said. "There have been a lot of athletes that played and were gay, and I have a feeling their teammates knew it and they just didn't care." Added Judy Shepard: "It's always more challenging in team sports to have the courage to (come out), and I think that once the doors open, the floodgates will literally open. And not just in pro sports, but college and all down the line. It's just a remarkable step forward."
That's a feeling shared by Abbe Land, the executive director and CEO of the Trevor Project, which has fielded more than 200,000 lifeline calls since its inception nearly 15 years ago, including more than 35,000 last year alone.
"(Collins' coming out) shows young people that they can be basketball players or hockey players or football players, and that he was willing to do that and say he's going to be who he is when he plays ball is very important," Land said. "I think it really helps a young person kind of know that they are perfect just the way they are and they can achieve all of their goals and dreams."
In addition to the 24-hour phone hotline, the Trevor Project also has its own social network, TrevorSpace, which has more than 50,000 active members. So to have a backer like Collins making LGBT youth more aware of their service is immensely important.
"If (Collins) hasn't reached out to us, we will reach out to him," Land said. "It's great when we have folks who have high visibility who support the Trevor Project, because for a lot of young people, these are role models. So for him to say, 'Here's a place you can call if you need help,' is great. … We still have a lot of work to do, but letting young people know that it's OK to ask for help, that it's OK to reach out, is very important."
The goal, of course, for the Matthew Shepard Foundation, the Trevor Project and other organizations like them, is to get to a point where being gay is no longer viewed as controversial and to have the LGBT community be universally accepted. And though it won't solve the problem altogether, having someone as visible as Jason Collins join that crusade is vitally important.
"You're starting to see the general flow, that everybody's realizing that there's no difference between the straight community and the gay community," Dennis Shepard said. "It's just who they love, and for the rest of it, they're out there, they have a mortgage to pay, they have kids in school, they want to have an ordinary life, retire and then die of old age with a smile on their face, just like everybody else.
"I just hope (Collins' essay) furthers the cause, not so much for our foundation, but for the population in general, so we can get off this ride of having to worry about being the first, and these stories about who's going to come out first. Who cares? The only first I want to know is Abbott and Costello."