The Matthew Shepard Foundation is proud to announce its participation in the Anti Defamation League's (ADL) #50StatesAgainstHate coalition aimed at implementing and strengthening hate crimes laws across the country.
Our executive director, Jason Marsden, joined ADL's Civil Rights Committee on October 16 in Denver to speak about the Foundation's long held position as leaders in hate crimes reporting initiatives, starting with the signing of the Matthew Shepard and James Byrd, Jr. Hate Crimes Prevention Act by President Barack Obama in 2009. The Civil Rights Committee had representatives from various subcommittees covering issues from cyberbullying and education, to investigative research and legal affairs.
The goals of the #50StatesAgainstHate coalition include stronger hate crimes laws, better training for law enforcement, improved data collection and increased community awareness around reporting of these crimes. Since the beginning of 2015, the Foundation and Judy and Dennis Shepard have been at the forefront of these issues with our hate crimes reporting initiatives in partnership with the Department of Justice. By the end of the year, we'll have reached eight communities, from Sacramento, California, to Biloxi, Mississippi, by sharing Matt's and the Shepard's story and the significance of the Shepard-Byrd Act.
Although the Shepard-Byrd Act was the first piece of legislation to successfully include language about sexual orientation and gender identity and expression in the federal hate crimes law, it unfortunately didn't ensure the participation of law enforcement agencies to report these crimes, as reporting is completely voluntary. Even states who regularly report hate crimes don't have comprehensive laws that include crimes motivated by sexual orientation or gender bias. And there are those who have no hate crimes laws at all, including Arkansas, Georgia, Indiana, South Carolina and, unfortunately, Wyoming, where Matthew was brutally attacked and left to die, and where Judy and Dennis still reside today.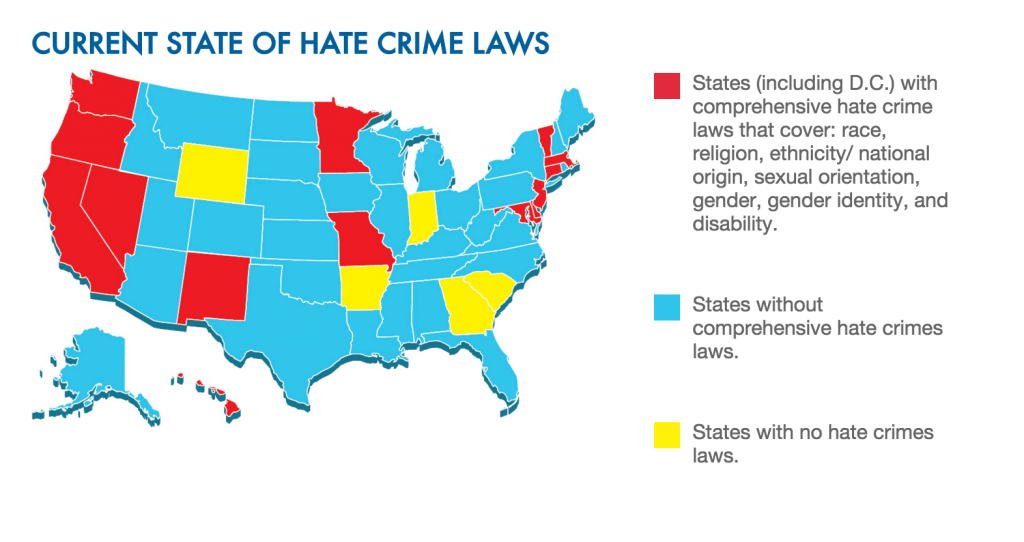 Source: Anti Defamation League
Because of the Foundation's history and involvement in Wyoming's political approach to hate crimes laws, the ADL has called upon our expertise to lead the push for the Equality State to finally pass comprehensive hate crimes laws.
Earlier this year, Wyoming Governor Matt Mead said he doesn't believe there's a need for a hate crimes law, adding that current laws already exist to prevent these crimes. "In other words," Mead said, "you don't get to shoot somebody and get a pass because it wasn't proven as a hate crime … I don't believe I know of a case in Wyoming where there's been a failure of prosecution or a failure of opportunity to seek justice because of a lack of laws for the state."
But the state's recent homicide in Riverton, where two Native American men were shot, one fatally, is evidence that the impact and fear instilled by hate crimes is still present in the state and needs to be properly addressed. The men were part of the Northern Arapaho Tribe, and tribal officials on the Wind River Reservation believe the shooting was a hate crime, that "added another page to a long history of violence and mistrust" in the region.
Hate crimes are not typical crimes. They impact an entire community, sending the message that they are undesired, unwanted and unprotected. In the case of Sean Kennedy in South Carolina, another state with no hate crimes laws, we see the injustice served in the absence of these laws and protections.
In 2007, Kennedy was assaulted outside a bar in Greenville, South Carolina, by Stephen Moller. After assaulting Kennedy, Moller left a message on a friend of Kennedy's phone using anti-gay slurs in the recount of his attack. Kennedy had hit his head on pavement as a result of the attack and later died of his injuries.
Moller's charges were eventually reduced to involuntary manslaughter, as the state of South Carolina doesn't have hate crimes laws and no crime classification between "murder" and "involuntary manslaughter." Moller ended up serving less than two years in prison for his crime. Kennedy's mother, Elke, established the Sean's Last Wish Foundation after her son's death and helped advocate for the passage of the Shepard-Byrd Act.
Kennedy's death by assault, in some ways so similar to Matt's, differed in that Wyoming statutes and courts were able to deliver justice in the form of life without parole for Matt's killers. Hate crime laws can be especially valuable for prosecutors and for the victims and their loved ones when assaults don't rise to the level of capital offenses, but leave lifelong consequences for the survivors. By recognizing what laws have considered for centuries — that the motive matters in determining the sentence — future injustices can be prevented, and in time, eliminated entirely from our community's experience.