Friends of the Matthew Shepard Foundation:
I'd like to take a moment to introduce myself. My name is Joe Foster, and I recently joined the team at the Matthew Shepard Foundation as Development Director.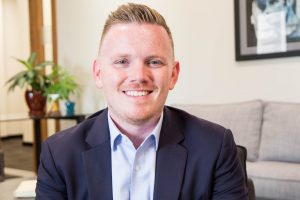 For almost a decade, I have had the pleasure of being part of the LGBTQ+ movement as a fundraiser for organizations such as amfAR, GLAAD, and Lambda Legal. Each of these organizations' mission is to create a more equal landscape for our community in the U.S. and globally—be it by reforming healthcare or the media or via the courts. Needless to say, it is a mission I am passionate about.
As such, I am thrilled to be a part of this organization. To erase hate may be a tall order, but I am ready to do my part. The work we are doing in our 20th anniversary year is paramount to one day creating an environment where every citizen of this country, regardless of sexual orientation, gender identity, race or religion, is treated with love and respect. I hope to have you as a part of that journey with us.
We all have a story of how Matthew touched our lives, and I hope you'll share your story with me one day. Together, we will continue to change the landscape, and make it easier for more people to live as their most authentic selves.
Thank you for your time and support of this wonderful organization. I look forward to working with you.
Onward,
Joe Foster
Development Director
Matthew Shepard Foundation