WASHINGTON, D.C. – A host of dignitaries and celebrities honored Casper residents Judy and Dennis Shepard for 15 years of pro-diversity charitable work Sunday, at the Ford's Theatre Gala in Washington D.C.
Vice President Joe Biden, Attorney General Eric Holder, The Honorable Valerie Jarrett, Secretary of the Interior Sally Jewell, members of Congress were among numerous other distinguished guests participating in the Ford's Theatre Annual Gala on June 2. As part of the program, actor Eric Stonestreet from ABC's hit series "Modern Family" presented a moving tribute to Dennis and Judy Shepard, parents of University of Wyoming student Matthew Shepard, who was murdered in Laramie in a 1998 anti-gay hate crime.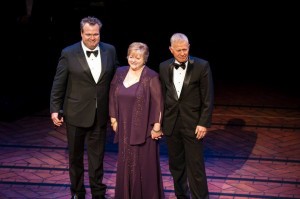 The couple was recognized "for their extraordinary ability to transform their tremendous personal loss into an opportunity to inspire change through The Matthew Shepard Foundation," the theatre said in a release. This fall, Ford's Theatre presents a stage production of The Laramie Project, a series of powerful personal accounts based on the community's reaction to Matthew Shepard's death.
The play is presented as part of the Ford's Theatre multi-year Lincoln Legacy Project, an effort to generate dialogue around issues of tolerance, equality and acceptance. Susan Burk, the Matthew Shepard Foundation's Laramie Project Specialist, also attended the Gala. She is working with Ford's Theatre on the production as well as educational and artistic pieces associated with the Lincoln Legacy Project.
The event also included the presentation of the Ford's Theatre Lincoln Medal to former Secretary of State Dr. Condoleezza Rice and Basketball Hall of Fame honoree Bill Russell, two individuals whose extraordinary character, accomplishments and work reflect Lincoln's legacy of leadership, service, wisdom and vision.
Secretary Rice, host Richard Thomas and performers Heidi Blickenstaff, Denyce Graves, Brian Stokes Mitchell and Eric Stonestreet also honored four first responders who reacted with remarkable bravery in our nation's recent times of crisis:
Sergeant David Kullgren, Newtown Police Department, Connecticut
Douglas S. Fuchs, Redding Police Department, Connecticut
Matt Patterson, Lynn Fire Department, Massachusetts
Robert Payne, West Volunteer Fire Department, Texas
Additional highlights from the Ford's Theatre Annual Gala included Denyce Graves performing Ave Maria and Bridge Over Troubled Water; Brian Stokes Mitchell singing Don't Rain on my Parade and You'll Never Walk Alone; Heidi Blickenstaff performing New York, New York; and performances by ABC Nashville's Clare Bowen and Sam Palladio of When the Right One Comes Along and Fade into You. The gala program at Ford's Theatre also included a tap sequence led by Omar Edwards, John and Leo Manzari and Luke Spring, and a rousing performance of Make Our Garden Grow from Leonard Bernstein's Candide by Denyce Graves, Brian Stokes Mitchell and the Ford's Theatre Gala Company.
First Lady Michelle Obama served as the honorary chair of the gala celebration. Honorary co-chairs were Mrs. Landra Reid, The Honorable Elaine L. Chao, Mrs. Cynthia Rogers, Mrs. Deborah I. Dingell, Dr. Sharon Malone and Mrs. Catherine B. Reynolds.
Media Contacts:
Jason Marsden, Executive Director, Matthew Shepard Foundation, 303.830.7400 ext. 12
Susan Burk, Laramie Project Specialist, Matthew Shepard Foundation, 307.337.1130